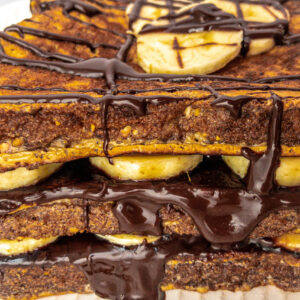 Protein French Toast
Add some protein to your french toast, it will make it more healthy and it stays delicious!
ingredients
3 eggs
½ tsp nutmeg
1 tsp cinnamon
pinch salt
30 ml milk
4 slices bread (white bread is the best for French toast, but I used whole grain bread)
1 scoop protein powder (I use vegan soy powder)
instructions
Whisk together the eggs in a large bowl.

Add the protein powder, nutmeg, cinnamon, salt and milk and whisk till you have a smooth texture.

Soak each slice of bread in your egg wash and place it in the pan. 

Fry it for 3-4 minutes before flipping and frying the other side.

Top it with lots of chocolate and bananas (or anything else you like, but this is my fav)
Nutrition
Sugar: 2.6gFiber: 1.2gCalories: 216kcalSaturated Fat: 3gFat: 8.6gProtein: 21.3gCarbohydrates: 13.4g
Have you tried this recipe?Share in on Instagram and tag
@eva.koper
!