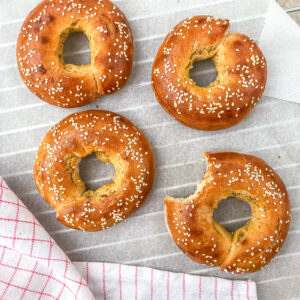 4 Ingredient Bagels
Easier bagels you will ever make! You can make them with or without yeast.
ingredients
250

g

self-rising flour

245

g

yoghurt

(i use soy yogurt)

1

egg

2

tbsp

agave syrup

(or maple syrup/honey)

7

g

yeast

(optional)

1

tbsp

sesame seeds

(optional as topping)
instructions
Preheat the oven at 200C.

Heat up the yoghurt in a sauce pan. If it's warm, take it of the heat.

If you use yeast, in a large bowl, add the yeast and agave syrup to the yoghurt and let is sit for 5 minutes. Do not stir it. After 5 minutes, stir it till the agave syrup and yeast are disolved.

If you don't use yeast, just simply mix the agave syrup and yoghurt together in a large bowl.

Mix the self-rising flour and yogurt until it comes together to form a ball.

Transfer the dough ball to a lightly floured work surface and knead the dough for about 5 to 10 minutes until it is smooth and elastic. Flatten and shape the dough into a roughly 20 cm disk.

If you use yeast, cover the bowl with a damp dish towel. Let rise in a warm place for 1 hour, until the dough has doubled in size. Punch the dough down, and let it rest for another 10 minutes.

Cut the dough into 4 equal pieces. Roll each piece of dough into a log roughly 20 cm long. Shape the log into a ring and transfer to a baking sheet.

Brush the tops of the bagels with egg wash (the beaten egg) and sprinkle it with sesame seasoning if prefered.

Bake for 20-25 minutes, until the bagels are golden brown.
notes
Vegan: use plant based yoghurt (for example soy yoghurt) Seasoning: add a little bit of salt to the dough.
Nutrition
Sugar:
4.5
g
Fiber:
1.7
g
Calories:
303
kcal
Saturated Fat:
0.7
g
Fat:
1.4
g
Protein:
10
g
Carbohydrates:
60.4
g
Have you tried this recipe?
Share in on Instagram and tag @eva.koper!