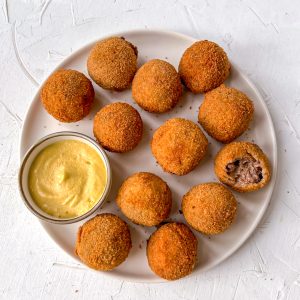 Bitterballen
yes babes here's my first Dutch recipe and trust me bitterballen never tasted this GOOD 😍🤤
ingredients
1 L water
500 g beef (soup meat)
4 bay leaves
4 cloves
4 pieces mace
salt
pepper
nutmeg
cinnamon (really small piece)
50 g margarine
60 g flour
4 egg whites
100 g bread crumbs
instructions
Cut the meat in small pieces.

Fry the meat in a casserole with oil

Once the meat in brown, add the water, bay leave, clove and mace. Let this stew for 2 hours.

Get the meat out of the pan and place it on a cutting board. Use two forks to make pulled beef from it.

Melt the margarine in a pan. Once melted, add the flour and stir till a paste.

Add the broth to the paste. Add a little bit of broth to it, stir well, and add more till all the broth is gone and you got a ragout.

Turn off the heat, add the salt, pepper, nutmeg and cinnamon. Taste it often to see if you get the right flavor. Keep in mind, that the flavor will get less intense after frying.

Stir in your pulled beef and mix it well. Transfer it to a container and place it in the fridge overnight.

The next day, create balls out of the ragout. They should be around 35g per ball.

Create 2 bowls, one with breadcrumbs and one with egg whites. Roll the balls in the breadcrumbs, than in the egg whites and ones again in the breadcrumbs.

Heat up a pan with frying oil, the oil should be 185C. Fry the ball for 3 minutes.

Serve with mustard and enjoy my loves!
Have you tried this recipe?Share in on Instagram and tag
@eva.koper
!