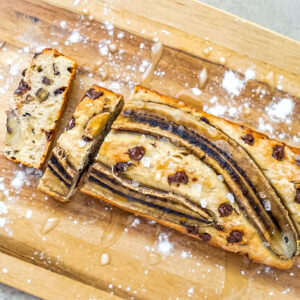 Caramel sea salt banana bread
Hear me out: the combination of banana bread and salted caramel?! Make sure to fill up your banana bread with lots of nuts and chocolate!
ingredients
280 g flour
2 tsp baking powder
2 eggs
3 bananas (2 smashed - 1 sliced)
1 tbsp caramel syrup
1 tsp sea salt
1 hand chocolate chips
1 hand pecan nuts (broken into pieces)
instructions
Preheat the oven at 175°C.

Smash the bananas and beat the eggs. Mix them together in a bowl.

Add the flour and baking powder. Mix everything together.

Grease the baking tin and add the mix.

Cut 1 banana in slices and lay in on top.

Bake the banana bread for 25-30 minutes.

Top with some cinnamon, caramel syrup and sea salt 
Nutrition
Sugar: 6.6gFiber: 1.7gCalories: 156kcalSaturated Fat: 0.6gFat: 3gProtein: 3.9gCarbohydrates: 28.8g
Have you tried this recipe?Share in on Instagram and tag
@eva.koper
!