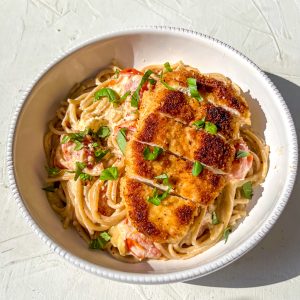 Feta Tomato Pasta with Crispy Chicken
Very very late, but i have finally created my version of the feta tomato pasta! With crispy chicken and sweet roasted garlic 😍 definitely a worth
ingredients
Pasta
150 g feta
400 g cherry tomatoes
1 shallot
4 cloves garlic
150 g spaghetti
1 pinch salt & pepper
5 g fresh basil
1 pinch chili flakes
Crispy Chicken
300 g chicken fillet
2 eggs
100 g bread crumbs
100 g Panko bread crumbs
seasoning: paprika powder, onion powder, garlic powder, salt and pepper.
instructions
To a baking dish, add olive oil, feta, cherry tomatoes, shallot (cut is small pieces), garlic cloves (wrapped in foil), salt & pepper. Bake uncovered for 45 minutes or till the tomatoes are soft on 175°C. 

In the meantime, mix the egg in a bowl. Mix the breadcrumbs, panko breadcrumbs and seasoning together in a different bowl. Place the chicken in egg wash and then in the breadcrumbs. Make sure it's fully covered. Fry the chicken golden brown. 

Cook the spaghetti al dente in the meantime.

When the oven dish is ready, mash the tomatoes, feta, and garlic. Mix it well. Stir in the basil and spaghetti.

Top the pasta with the chicken, extra basil and a few chili flakes.
Have you tried this recipe?Share in on Instagram and tag
@eva.koper
!