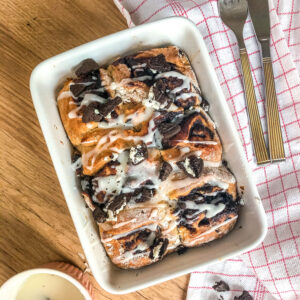 Healthier Oreo Cinnamon Buns
The best cinnamon rolls with the best filling; OREO! Also, the dough is super fluffy! For a vegan version of the dough, check out my other cinnamon bun rcipe.
ingredients
Dough
260 g flour
3 tsp baking powder
½ tsp cinnamon
½ tsp salt
1 ½ tbsp butter
36 g agave syrup
1 tsp honey
1 ½ tbsp applesauce (without added sugar)
177 ml whole milk (warm)
7 g yeast
1 egg
Filling
4 tbsp applesauce
30 g brown sugar
30 g honey
1 tbsp cinnamon
½ tsp vanilla extract
2 tbsp cocoa powder
6 oreos
Frosting
60 g icing sugar
2-3 tbsp milk
instructions
Beat together the flour, baking powder, cinnamon, yeast and salt.

Combine the milk and butter in a small saucepan over low heat. Cook until the butter has melted. Add the agave syrup, honey and applesauce.

Add the milk mixture and beaten egg to the flour and mix with a spatula until well blended.

Sprinkle your work surface with flour, turn the dough out and knead for 1 minute until you form a smooth ball. If the dough feels too sticky, add more flour if necessary, but don't knead the dough for too long. The dough should still be a little sticky.

Cover the dough loosely with a damp towel and let it rest for 1 hour.

Preheat the oven to 175 ° C. Grease an 8 or 9 inch baking dish with butter.

Lightly dust your work surface with flour. Roll out the dough into a rectangle.

Remove the cream from the Oreos and crumble it. Beat the ingredients for the filling in a small bowl.

Brush the dough all over with the cinnamon-sugar mixture.

Start at the long end and roll the dough firmly into a block. Trim the edges and cut the block into 9 rolls. Or turn it into dots if you're not capable of this, like I am. Be creative 🙂

Place the rolls in an oven dish. Bake for 25 to 30 minutes, until pale golden brown and cooked through.

Meanwhile, make the icing by mixing all the ingredients together. 
notes
Vegan: leave out the egg and yeast. Replace the honey with agave syrup.  Seasoning: does not apply.
Nutrition
Sugar: 14.9gFiber: 1.4gCalories: 204kcalSaturated Fat: 1.9gFat: 3.7gProtein: 4.8gCarbohydrates: 38.3g
Have you tried this recipe?Share in on Instagram and tag
@eva.koper
!