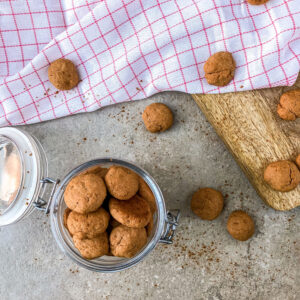 Healthy Gingerbread cookies (pepernoten)
In The Netherlands we have this holiday called Sinterklaas, which is kinda like Santa Claus, but better! This is one of the typical snacks, which is eating during this holiday!
ingredients
100 g margarine
250 g self-raising flour
6 tsp biscuit and gingerbread spices
1 tsp salt
¼ tsp baking powder
50 g agave syrup
7.5 g stevia
80 ml milk
8 g vanilla sugar
instructions
Heat the oven to 170 degrees. Stir the flour, stevia, vanilla sugar, gingerbread spices, baking powder and a pinch of salt together in a bowl.

Add the cold margarine, agave syrup and milk and knead into a firm ball. Do not knead too long, because the dough should not get too hot.

Line a baking tray with a piece of baking paper. Turn the dough into balls and place them on the baking tray. Flatten them slightly.

Put the gingerbread cookies in the oven for about 30 minutes. When they come out of the oven they will still feel a bit soft but when they have cooled down they will become crispy.
notes
Vegan: use vegan margarine and plant-based milk. Seasoning: does not apply.
Nutrition
Sugar: 2.1gFiber: 1.1gCalories: 279kcalSaturated Fat: 2.2gFat: 10.7gProtein: 4.8gCarbohydrates: 41g
Have you tried this recipe?Share in on Instagram and tag
@eva.koper
!