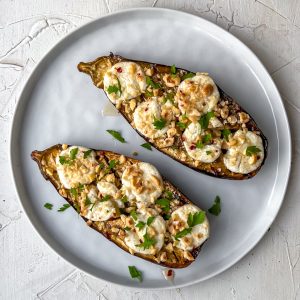 Honey Goat Cheese Roasted Aubergine
this is my go-to side dish! the combination of eggplant, hazelnuts, goat cheese and honey is HEA-VEN 🌈☁️ Add some potatoes on the side and there you go 😍
ingredients
1 aubergine
1 tbsp olive oil
1 tbsp honey
1 pinch salt
100 g goat cheese
30 g hazelnuts (crushed)
½ tsp chili flakes
instructions
Preheat the oven on 200C

Cut the aubergine in half and create a cross pattern.

Drizzle the olive oil on the insides of the aubergine. Spread it with honey and sprinkle it with salt. 

Place the aubergine on a baking tray with insides facing down.

Bake for 30-40 minutes. Take them out of the oven and turn them. Place slices goat cheese on top and sprinkle the hazelnuts over it. 

Place the aubergines back in the oven, this time with the insides facing upside. Roast them for 10-20 minutes, till the hazelnuts are golden brown. 

In the meantime, mix 2 tbsp honey with chili flakes. Drizzle it on top when the aubergines are ready.
Have you tried this recipe?Share in on Instagram and tag
@eva.koper
!