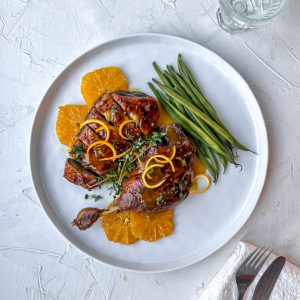 Honey Orange Roasted Duck
Crispy duck legs covered with a honey orange glaze and a sweet orange sauce.The perfect main for Christmas or any special occasion!
ingredients
2

duck legs

1

duck breast

1

pinch

salt
Sauce
4

tbsp

honey

8

ml

red wine vinegar

4

sweet oranges

200

ml

duck of beef stock

1

tbsp

cornstarch

3

tbsp

Grand Marnier

(or other orange liqueur)
instructions
Use a needle or sharp knife point to pierce the skin of the duck legs all over, taking care to not pierce the meat itself; go in at an angle. This helps the fat render out of the bird. For the duck breast, make a cross pattern on the skin. Salt the ducks well.

Put the duck legs in an ovenproof pan and place them in the oven on 180°C. Do not preheat the oven, as it will melt the duck fat slowly. Roast for 60-70 minutes. Add the duck breast when there are only 10 minutes left.

Shave the peel off the oranges, grating some fine and keeping the peel of 2 oranges in large pieces. Juice 2 oranges. Cut segments from the other 2 oranges. 

Meanwhile, boil the vinegar, honey and 1 tsp orange juice in a small pot until it combines. Take the pan out of the oven and spread the honey/orange over the duck and increase the heat to 220°C. Put the birds back in the oven and roast until the skin is crispy, about 10 to 15 minutes. Add slices of oranges and thyme to the baking dish. Cover the oranges with the honey/vinegar as well.

Add 120 ml orange juice to the honey/vinegar mix. Stir in the cornstar and let it simmer. Pour the stock in the mix little by little, stirring all the while. Add large pieces of the peel and let it simmer for 5 minutes. Add the Grand Marnier and orange bitters to taste. Simmer for 2 more minutes.

When the ducks are ready, remove them from the oven and let them rest on a cutting board. 

To serve, carve the duck and arrange on plates. Give everyone some orange supremes and pour over the sauce.

Serve with haricovets and potatoes. Many good potato recipes can be found on my website.
Have you tried this recipe?
Share in on Instagram and tag @eva.koper!