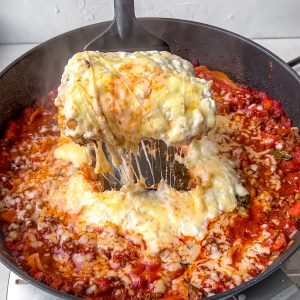 Pan Baked Lasagna
Italians will hate me for this, but it's one of the best things ever. Such an easy way to make lasagna 😍 and super cheesyyy 💗
ingredients
Lasagne
1 onion
1 clove garlic
125 g carrot
100 g celery
400 ml tomato cubes
70 g tomato paste
500 ml beef broth
250 g minced meat
5 lasagne leaves
1 tsp oregano
fresh basil
Cheese layer
75 g mozzarella
25 g Parmesan
60 g ricotta
instructions
Cut the onion, carrot and celery finely. Add it to the onion and garlic to a big frying pan.

Add the minced meat, fry for a few minutes. It does not have to be completely cooked.

Add the tomato cubes, tomato paste, and beef broth.

Stir in the oregano and basil. Break the lasagne leaves and stuff them in the sauce.

In a bowl, mix together the ingredients for the cheese layer. Place it on top of the sauce. Cover the pan and let it simmer for 12 minutes.
Have you tried this recipe?Share in on Instagram and tag
@eva.koper
!