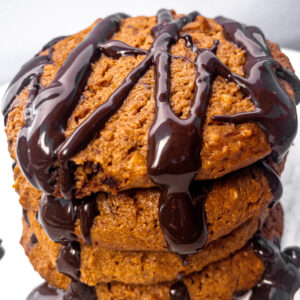 Peanut butter Chocolate Chip Cookies
These cookies contain my favourite ingredients; PEANUTBUTTER and CHOCOLATE!! I made them double and triple chocolate!
ingredients
225 g peanut butter
1 egg
175 g agave syrup or maple syrup
1 tsp vanilla
½ tsp baking soda
45 g oatmeal
1 hand chocolate chips
1 tbsp cacao powder (if you prefer double chocolate chip cookies)
instructions
Preheat the oven at 175 ºC

Mix together the peanut butter, egg, agave syrup, vanilla, baking soda and optionally cacao powder.

Stir in the oatmeal and chocolate chips.

Use a tablespoon to create 12 cookies. Wet the back of a teaspoon to get the cookies into shape.

Bake the cookies for 10-12 minutes. 

Drizzle some chocolate on top for a triple chocolate chip cookie!
Nutrition
Sugar: 12gFiber: 2.2gCalories: 180kcalSaturated Fat: 2.7gFat: 11gProtein: 6.1gCarbohydrates: 17.6g
Have you tried this recipe?Share in on Instagram and tag
@eva.koper
!