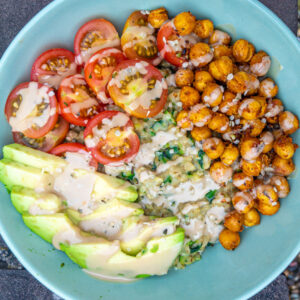 Savoury Oats
Try some oats for dinner! The base is vegan but you can top it off with anything you like!
ingredients
Oats
100 g quick oats
1 tbsp protein powder (vegan soy protein)
⅔ courgette
2 hands spinach/kale
120 ml milk (soy milk)
120 ml water
1 tsp vegan bouillon powder (or ½ a block)
Topping
⅔ avocado
100 g chickpeas
250 g tomatoes
1 tsp tahini
instructions
In a steelpan heat the water and soy milk.

In the meantime, grate the courgette and cut the spinach/kale finely. 

Once it start boiling, turn the heat on medium low and add in all the ingredients of the oats. Meanwhile, prepare your toppings. 

Cook the oats until your desired consistency, put it in a bowl, and add your toppings⅔
notes
Seasoning: salt and pepper
Nutrition
Sugar: 12.4gFiber: 22.8gCalories: 685kcalSaturated Fat: 4.1gFat: 27.1gProtein: 34.1gCarbohydrates: 84.5g
Have you tried this recipe?Share in on Instagram and tag
@eva.koper
!