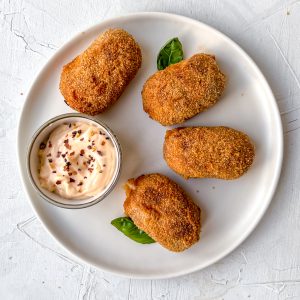 Suppli (Italian Risotto Balls)
A Roman snack made out of risotto rice filled with mozzarella!
ingredients
200 g tomato sauce (or use a different pasta sauce, to create a different flavour)
150 g risotto rice
800 g vegetable broth
a pinch salt & pepper
30 g Parmesan cheese
220 g mozzarella
1 egg
100 g bread crumbs
instructions
Add the tomato sauce to a large frying pan and cook for 2 minutes.

Add the risotto rice, stir and cook for 1 minute. Add the hot broth 1-2 ladles at a time, stirring often until the rice is cooked (not mushy) and the mixture is liquid free but creamy.

Add the pepper, salt and Parmesan. Move to a bowl and let cool down completely.

Cut the mozzarella in thick sticks in the meantime.

Place 1½ tbsp of the rice mixture in the palm of your hand. Place a stick of mozzarella in the middle. Mold into an oblong shape, making sure that the mozzarella is completely covered (you may need a bit more rice mixture to close it completely). If it is too sticky, you can also use plastic foil to fold it easier and thighter.Set aside on a clean plate until all suppli are formed.

In a small bowl beat an egg, and place the bread crumbs in a plate. First roll the suppli in the egg and then in the bread crumbs set aside until all are rolled.

Place the supplì in the air fryer on 180 °C for 15-20 minutes, till golden brown. Cover them with olive oil to make them more juicy.
Have you tried this recipe?Share in on Instagram and tag
@eva.koper
!