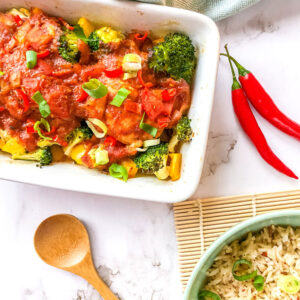 Sweet Chili Mango Chicken
This is such a good combination! The sweetness of the mango in combination with the spicy chili peper gives the chicken a delicious flavor!
ingredients
Ingredients
1/2 tbsp soy sauce
1 yellow pepper
2 tomatoes
300 g chicken thigh
200 ml tomato passata
1 mango
3 spring onions
1 brocolli
150 g rice
1 tbsp agave syrup
1 red chili pepper
instructions
Preheat the oven at 220 C. 

Cut the mango, tomatoes, broccoli, spring onion, chili peper and paprika. 

In a bowl, mix the ketjap, mango, tomaten passata, agave syrup and chili peper. Add the spices for flavour.

Put the chicken in an oven tray together with broccoli and paprika. Coat the chicken with the mango sauce. 

Put the chicken in the oven for 20 minutes. 

Meantime, cook the pasta. 

Once the chicken in done, sprinkle it with the spring onion. 
notes
Vegan: not possible. Seasoning: turmeric, paprika powder, salt, pepper, onion powder.
Nutrition
Sugar: 27.3gFiber: 7.2gCalories: 772kcalSaturated Fat: 4.2gFat: 16gProtein: 46.2gCarbohydrates: 112.6g
Have you tried this recipe?Share in on Instagram and tag
@eva.koper
!