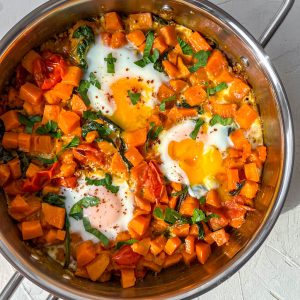 Sweet Potato Bake
One of my favorite sweet potato recipes 😍 imagine the taste of egg, basil pesto & sweet potato together 🥵
ingredients
300 g sweet potatoes (peeled and chopped into small cube)
300 g chicken thigh
1 clove garlic
1 onion
120 g cherry tomatoes
1 tsp pesto
1 tbsp (soy) cream or oat milk
100 g spinach (chopped)
3 eggs
20 g grated parmesan
1 handful basil (chopped)
1 tsp chilli flakes (optional)
instructions
Preheat your oven to 200C.

Add your sweet potato chunks to a small baking dish, add tsp of olive oil and season with salt and pepper.

Bake your sweet potato in the oven for 20-25 mins. Meanwhile, fry your chicken (make sure to season it). In the meantime, cut the onion and garlic.

Add the onion and garlic to the chicken. Add the cherry tomatoes.

Fry your cherry tomatoes till they turn soft. Mash the cherry tomatoes to release their juices. Add your pesto and stir. Fry for 1 minutes and add the cream, spinach and basil. Stir that all together until the spinach wilts.

Add in your baked sweet potatoes, stir until completely mixed.

Create three wells for your eggs. Add your eggs and top with chilli flakes and a little grated parmesan (optional).

Bake for 8-10 mins, make sure your eggs don't get overcooked, we want them runny!
Have you tried this recipe?Share in on Instagram and tag
@eva.koper
!