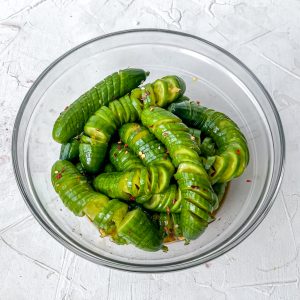 Asian Cucumber Salad
The best way to eat cucumbers, and sooo easy to make! 😍 honestly I'm obsessed with the shape!! The best kind of salad!
ingredients
6 mini cucumber
3 tbsp soy sauce
2 tbsp rice wine vinegar
1 tbsp agave syrup
2 cloves garlic (grated)
1 tsp ginger (grated)
1 tsp sesame oil
1 pinch chili flakes
1 tsp sesame seeds
instructions
Place two wooden chopsticks around the cucumber to use as a guide for cutting.

Make thin, diagonal cuts along the cucumber until your knife touches the chopsticks.

Flip cucumber around and make diagonal cuts again, this time don't cut all the way down to the chopstick. I roughly cut about half way through the cucumber.

Add salt and water. Soak them for 10 minutes. Drain the water.

Add the remaining ingredients and mix.
Have you tried this recipe?Share in on Instagram and tag
@eva.koper
!