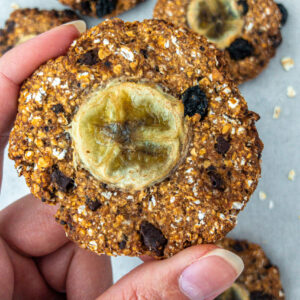 Oatmeal Cookies
These cookies are so flexible; you can fill them with raisins, nuts, chocolate, cranberries, anything you like! They are perfect for breakfast and as a snack!
ingredients
1 banana
100 g oatmeal
1 tbsp biscuit and gingerbread spices (or cinnamon or pumpkin spice)
1 hand raisins, nuts, chocolate etc.
instructions
Preheat the oven to 200 °C.

Cut 6 slices from the banana and lay aside. Mash the rest of the banana in a mixing bowl.

Add the oatmeal and biscuit and gingerbread spices to the mixing bowl. Mix well together to form a whole. Add the raisins and gently row through.

Make 5/6 piles of this mix on baking paper. Place 1 slice of banana on each cookie.

Bake the cookies for 20 minutes until they are nice and golden brown.
Nutrition
Sugar: 3.9gFiber: 0.9gCalories: 37kcalSaturated Fat: 0.1gFat: 0.3gProtein: 0.7gCarbohydrates: 8.5g
Have you tried this recipe?Share in on Instagram and tag
@eva.koper
!